You Bet Your Life - Old Time Radio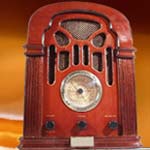 Capitalizing on the grand success of the Marx Brothers vaudeville, Broadway and film successes of the 1930's and '40's, the entertainment value of You Bet Your Life was found more in the clever banter between host Groucho Marx, the contestants and the announcer than in the actual quiz. The program was a showcase for Groucho's sharp mind and quick witticisms.
The "secret word" bonus was a mainstay feature of the show, and even today, we might hear someone playfully say in their best Groucho impression, "Say the secret word and win $50." Contestants were carefully preselected and matched with each other to make the most lively potentially ironic, provocative or hilarious pairing. The show attracted quirky, colorful, interesting people, and Groucho took full advantage of this to make the interview portion of the show lively spontaneous entertainment. Occasionally, Groucho found opportunities to make comments that revealed his open-minded stance on social justice issues, such as racial tolerance, for instance. The show's straightforward design allowed for it to be broadcast simultaneously on radio and television.
Contestants selected from a group of categories, and depending on the number of questions they answered correctly, they might be eligible to compete for a jackpot cash prize. If they failed to answer any question correctly, Groucho would ask them a throwaway question, such as "Who is buried in Grant's Tomb" so that every contestant walked away with some cash.

There are 118 shows in our collection!
Date Aired
Audition Show
August 15, 1947
Secret Word - Head
April 7, 1949
Secret Word - Chair
October 5, 1949
Secret Word-Smile
October 12, 1949
Secret Word-Dust
December 7, 1949
Secret Word-Clock
October 19, 1949
Secret Word-Radio
October 26, 1949
Secret Word-Shoe
November 2, 1949
Secret Word-Ink
November 9, 1949
Secret Word-Grass
November 16, 1949
Secret Word-Sky
November 23, 1949
Secret Word-Window
November 30, 1949
Secret Word-Hair
December 14, 1949
Secret Word-Chair
December 21, 1949
Secret Word-Name
December 28, 1949
Secret Word-Tree
January 4, 1950
Secret Word-Milk
January 11, 1950
Secret Word-Spoon
January 18, 1950
Secret Word-Air
February 1, 1950
Secret Word-Bread
February 8, 1950
Secret Word-Sugar
February 15, 1950
Secret Word-Table
February 22, 1950
Secret Word-Door
March 1, 1950
Secret Word-Heart
March 8, 1950
Secret Word-Water
March 15, 1950
AND MANY MORE



Other Vintage Radio You'll Like:
Try these other Old Time Radio Shows out for size!